Zaid Rahman | 27 AA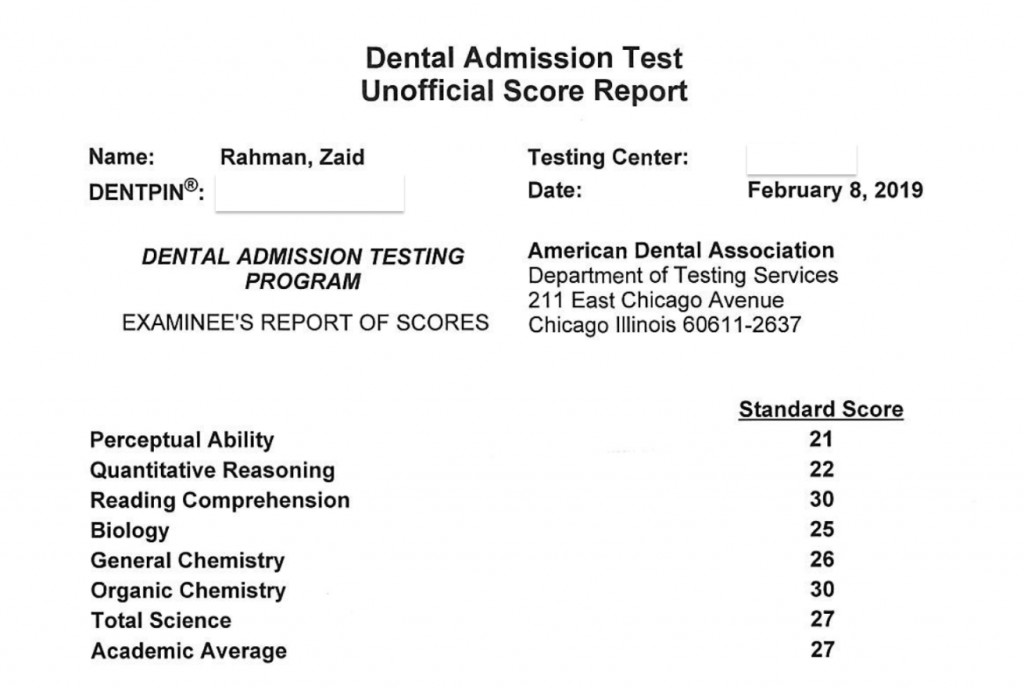 What is one piece of advice you would give to another student preparing to take the DAT?
The most important piece of advice I can give to test takers is to create a plan! It will benefit you to be organized and know what you will study each day. Understand the time frame that you have to study for the exam, whether that be 4 weeks or 4 months, and carefully budget your time to maximize your efficiency in preparing for the exam. I would create a schedule that will allow you to strive for perfection, but settle for excellence.
However, no single schedule is perfect, and after beginning your study plan, you may realize that your plan isn't always ideal. Don't be afraid to adjust your study plan as you better understand your study methods for the DAT. In making a schedule, be sure to keep it flexible in case other events in your life pop up. I would also recommend having full day breaks in your schedule plan, depending on how long you plan on studying for the DAT. I normally took the weekends off completely or kept those days to light content review. This really helped me recharge and feel refreshed for the study grind during the week.
I recommend looking at study guides for the DAT provided online, but I would not completely copy one guide as your own. Everyone prepares for their exam differently, and I stress again not to get caught up on a single guide. Take parts of guides and mix it with your own study methods. Understand which materials you plan to use, and be conscious of resources that offer a limited-time subscription, and use that to base your guide.
This is a long, comprehensive exam, and there is no perfect study guide or resource, so I recommend finding materials that are well supported by previous test takers and that fit your style of studying! Once you find a method that fits you, it will make studying much more enjoyable. For example, there are Crack the DAT Biology notes that are available. The biology notes were very comprehensive. As a result, I tried several methods to study them, such as highlighting the text, creating flash cards, and handwriting the notes to summarize them. I felt that the material did not stick to my head using these methods. However, once I tried typing the notes to summarize them, I found myself to be more efficient in going through the notes and I was able to retain the information I studied. Don't be afraid to experiment with different methods until you find the right one!
How did you use Crack the DAT to prepare for the DAT?
Crack the DAT was a very comprehensive tool that allowed me to study for the DAT in an organized fashion. For the general and organic chemistry sections and the quantitative reasoning section, I used the video series provided by Crack the DAT. I recommend studying with the mindset that you know nothing about these subjects, even if you did learn certain topics beforehand. As a result of doing this, I would take very detailed, handwritten notes from the videos, which ensured that I took the time to relearn every little thing discussed in the videos. I would strive to complete one chapter of general chemistry and one chapter of organic chemistry each day, if I was able to dedicate enough time during that day.
For the biology section, the Crack the DAT Biology notes prepared me very well. I would typically type up a summary of the notes provided in a document, and I portioned the entire note packet out over a month. I would periodically review the notes I had typed so that the information was always fresh in my mind, as the biology section of the DAT is, in my opinion, the most diverse section. There are so many facts, broad and specific, that can be asked, so it is important to make sure that one has a proper foundation in biology to do well!
For the perceptual ability section, I was able to understand each problem type using the Crack the DAT PAT video series. I stress that this section requires a little bit of practice, each and every day. Unlike the other sections of the DAT, perceptual ability is not something most of us have practiced or learned explicitly before studying for the exam. I would go through each practice exam for the perceptual ability section, and ensure that I was able to complete the section within the 90-minute limit. However, when beginning to learn this section, it is okay to not time yourself; Master each problem type first!
I can say the same about the reading comprehension section. The video series provided by Crack the DAT helped me find a method to efficiently read each passage and look for the answers to the questions. Try experimenting with different methods until you are comfortable with one that you like. This section also requires practice, and like I mentioned before with the PAT section, it is okay to first master certain methods before timing yourself!
After completing the video series or note packets, I tackled the practice tests one subject at a time. Upon completing the tests, I would go through each question, and specifically create a separate note packet of questions that I answered incorrectly or answered correctly without confidence. I would explicitly write the explanation to the answers to the questions so that I wouldn't have trouble with a similar question in the future. This was probably the single most helpful tool that I used to help me effectively learn topics that I had trouble understanding. The Crack the DAT resources were plentiful for me to always have new, unseen questions for me to answer until the day of my exam.
What would you do differently to prepare for the DAT?
I cannot stress giving yourself enough practice before your exam date. There were times where I felt unprepared leading up my exam, and I was losing confidence in myself as a result. If you are feeling overwhelmed or unconfident, it would not hurt to push your exam date back if possible. I wish I had given myself a broader perspective of how prepared I actually was for the exam, as it would have given me more confidence in the final days before my DAT. Often times, one's ability to succeed is dictated through one's mental and emotional state, so always believe in yourself!
That being said, you can boost your confidence by going through as many practice questions and tests as feasible. I would stress being well prepared before taking the practice tests so that you give yourself the best chance to do well and apply what you have reviewed! This means thoroughly going over your notes and strategies before taking a practice exam. Again, this maximizes your ability to score well on your practice exams and give yourself self-assurance in your capabilities.
Another habit I would change in preparing for the DAT is to ensure that I gave myself adequate exposure to the perceptual ability section. This means going over practice problems every day so that the problems would be more familiar to me as time went on. This is a subject that few have had previous exposure to, so it is very important to keep the topic and effective strategies relevant in your mind. To summarize, be confident in your ability, as you are all smart enough to be in a position to study for this exam, and make the most of the resources that are available to you!
Join the Crack the DAT family to gain an advantage on your Dental Admission Test to score higher, get accepted into dental school and become a dentist! Click here!