Nicolas Tipton | 23 AA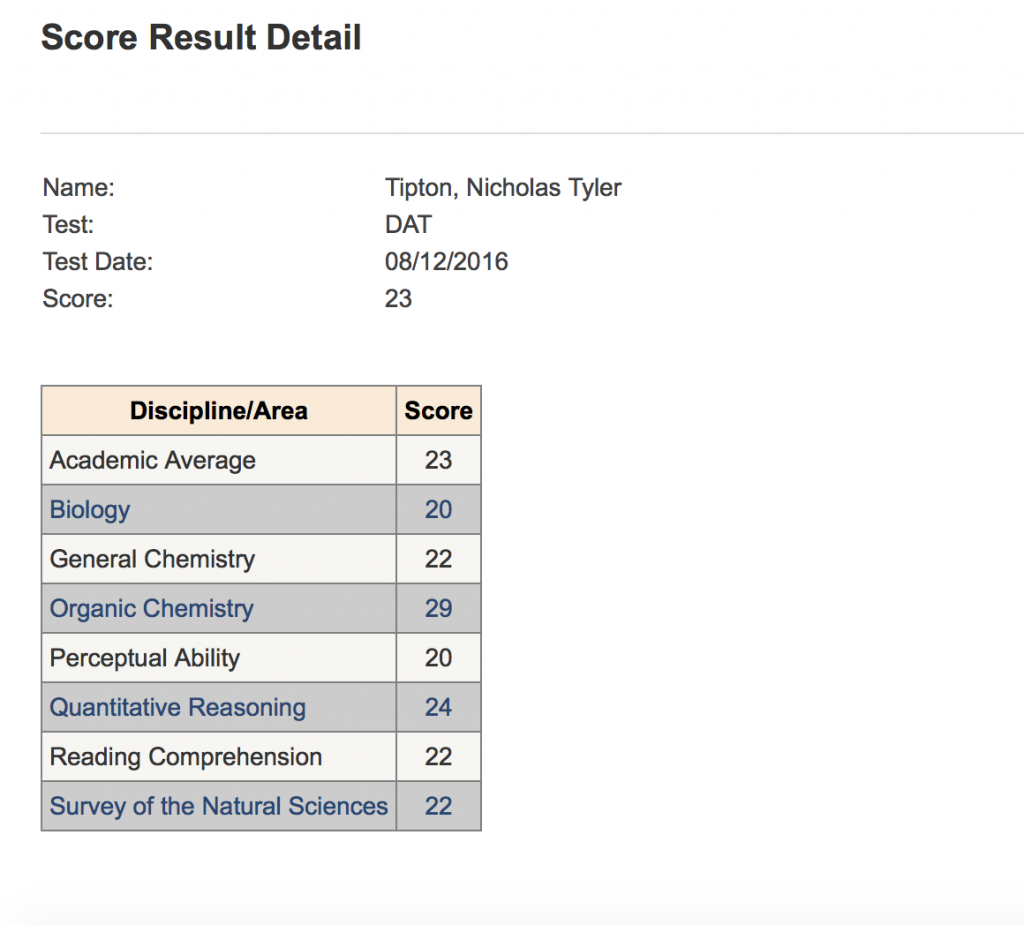 What is one piece of advice you would give to another student preparing to take the DAT?
I believe that the one thing that I did, that really made a difference in improving my scores, was to find a study plan and stick with it. Personally, I found an example study plan online, and modified it so that it fits the time period that I gave myself to studying for the DAT. After finding one that I felt had great structure to it, I made sure to either increase or decrease the time allotted for certain subjects in order to address my strengths and weaknesses. For example, I felt as if I had a strong understanding of the organic chemistry material as I had just finished taking it at my college. Spending the same amount of time on it as PAT, a section I was very unfamiliar with, was important for improving my overall score.
One other thing I made sure to do, was to limit my distractions. I made sure to study in the same place, at the same time, every day of my study plan. I gave myself breaks in between studying, of course, but I only let myself check social media at lunch and at the end of my study time to stay focused. The DAT is a long test, and staying focused on the material for that long is mentally draining.
How did you use Crack the DAT to prepare for the DAT?
There were two main reasons that made the Crack the DAT the most important practice material for me when I was studying for the DAT.
The first of which was the amount of practice questions that they had to offer. Information retrieval after reviewing the information is the best way to learn material and prepare well for the exam. It was tough finding a resource that had a large amount of practice questions that actually resembled the actual test questions, but Crack the DAT did just that. Testing myself, and evaluation where I was with the information was a great benefit that Crack the DAT was able to offer me.
The other main benefit of Crack the DAT was how well the PAT questions prepared me. You have never seen questions that will be given to you on the PAT, it was the most challenging section for me at the beginning. When I had first evaluated my knowledge before starting to study, I had no idea how to answer the questions. Crack the DAT was able to help me with this, especially using their training games.
What would you do differently to prepare for the DAT?
The first thing that I would have changed was how much time I gave myself in my study schedule. I had devoted a month in the summer, and felt that it would have been healthier and more beneficial to space out my time over a few months. Even if I had started reviewing material during the spring semester of college in my free time would have helped freshen ideas up. Either learning a test topic every week, watching a review video online, or completing a few practice problems a day would have gone a long way and made it easier to recall that information better.
Another thing that I could have done to improve my studying, was to give myself more free time and breaks. Whether this could have been giving myself one day off a week with no studying, or longer lunch and snack breaks throughout the day. My nerves had me thinking that I could not afford a long lunch hour and that I needed to study through it, but that wasn't healthy. Tying this in with giving myself a longer period of time to study the material, you don't want to get to your test day completely mentally drained. This is an important test, but you are doing yourself a disservice by not giving your brain a break every once in a while.
Join the Crack the DAT family to gain an advantage on your Dental Admission Test to score higher, get accepted into dental school and become a dentist! Click here!