Janny Guerra | 24 AA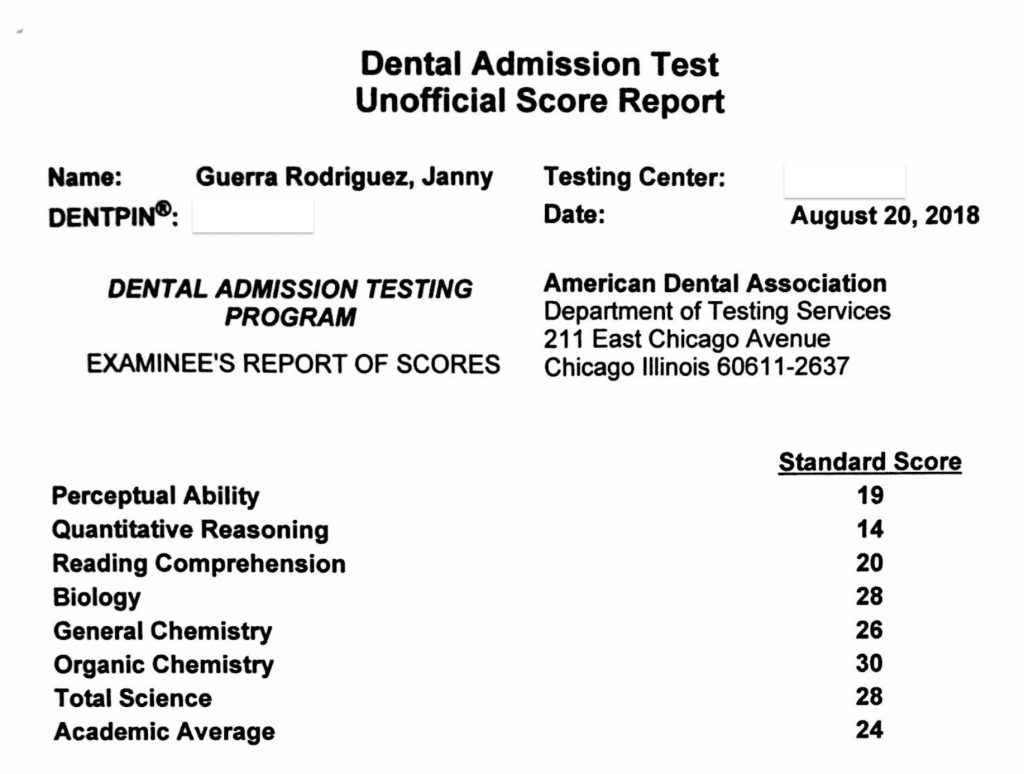 What is one piece of advice you would give to another student preparing to take the DAT?
Commitment, proper resources for studying and family support are fundamental to succeed in this crucial exam. Students should commit at least for 8 hours daily of study and do not exceed 4 months without taking the DAT. This will allow them to perform great at the highest peak of knowledge. Proper sleep and nutrition are important to retain the learned material and advance in other subjects. Appropriate schedule is a must, specially when you are a college student taking several classes at same time.
The creation of tables and diagrams is vital for a better memorization. Explaining the learned information to a study partner could be essential. Having a strict schedule will allow you to touch every piece of information on a daily basis. Also, creating flash cards for organic chemistry reactions come very handy, and I truly recommend to go through every single reaction every day. I wrote the organic chemistry reactions, general chemistry formulas, and biological pathways on big posters that I sticked to the wall. This study technique allowed me to review most of the content and build a picture in my memory before going to bed and when I woke up.
How did you use Crack the DAT to prepare for the DAT?
Crack the DAT is a wonderful tool to prepare for the DAT in all sense. It encounters a variety of questions that will test your knowledge. This program is very organized and sectioned by sciences and the Perceptual Ability. The up to date information is a great feature of this tool since you are always efficiently trying to understand the material. All sections are amazing; however, the PAT section will definitively boost your score.
I believe that taking practice exams and questions in an environment that resembles the DAT builds an optical familiarity that unconsciously helps during the exam day. Also, the mobile friendly appearance of the website comes really handy when taking practice exams if you are not in your study area. There are several resources to studying for the DAT, however, Crack the DAT will allow you to score great in a short period of time. This program entails updated material based on previous experienced DAT takers.
What would you do differently to prepare for the DAT?
I implemented several changes when I retook the DAT. A good program like Crack the DAT is essential to study correctly investing all the time and effort on updated materials. In order to learn, we need to repeat; and taking practice exams is a perfect way to train your brain. It is crucial to be hydrated and consume less caffeine. Taking this challenging exam requires a lot of effort and energy; therefore, keeping your brain and body healthy will boost your endurance.
The first time I took the DAT, I believed that sleeping less would allow me to be more exposed to the material; however, memorization seemed to be ineffective. Therefore, I went from a night owl to an early bird. Becoming an early riser and sleeping at least 7 hours, allowed me to feel fully recovered to better memorize and understand the information the second time around.
Join the Crack the DAT family to gain an advantage on your Dental Admission Test to score higher, get accepted into dental school and become a dentist! Click here!