Kha Nguyen | 24 AA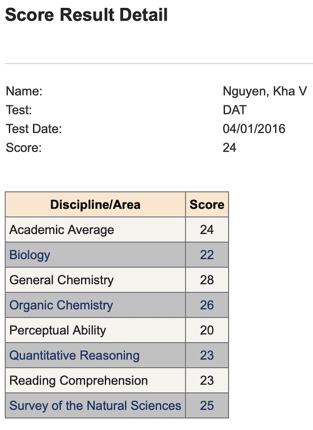 What is one piece of advice you would give to another student preparing to take the DAT?
I suggest coming up with the timeline very early on and don't be afraid of switching back and forth between different sections. Most importantly, do research and finalize a compact list of the materials that you're going to stick to, then trying to maximize what the resources offer. This especially help if you are a last minute studier like me.
Also, do a lot of practice questions and simulated tests. This will help you to get familiar with DAT type of question. The more you practice, the better you know which topic will show up more often. If you feel like you need to review a topic, then do it immediately and master that topic before moving on to the next part. Don't forget to make yourself a review list to double check your knowledge before the test date.
When you choose your DAT schedule (4 week/8 week/12 week), start your study seriously from the beginning, find yourself a strong motivation. This will help you to stay focus during the entire process. Once you find yourself being distracted after several hours of studying, take a 15-30 minute break, do whatever makes yourself relax. Then, come back to study with your fresh mind.
How did you use Crack the DAT to prepare for the DAT?
Crack the DAT is one of the best resources, and I highly recommend it as part of your resources list, especially if you want a short list. If you have a short period of time to study for DAT, definitely include Crack the DAT. Their course videos are exceptionally helpful and compact, especially in how they break down the PAT section.
Most important factor that helped boosting my scores was Crack the DAT question bank. I did all of the science practice questions that listed on Crack the DAT study guide twice. Every time I always read the detail explanations to review my knowledge and to make sure that I will not make the same mistake again.
Crack the DAT simulated test has exact same look and feel as the real test. I found a lot of questions on my real DAT were similar to the ones on Crack the DAT question bank. Since I did those practice questions before, I could easily pick the right answer without spending too much time reading or thinking about other options. If you follow Crack the DAT study schedule and do all practice questions, you will be familiar with those type of questions.
Another feature that I like about Crack the DAT is that it is easy to access with all devices. I could do practice questions, PAT training games, or reading articles on my phone while siting on the bus or waiting for my next class.
What would you do differently to prepare for the DAT?
I would go over the the test bank one more time before taking the test. This consolidates and reinforces the parts that I already got, while specifically points out what I need to improve on. For example biology, I spent too much time reviewing the materials/notes every day. If I could do differently, I would practice the questions again and again.
I also wish I had spent more time on practicing PAT. For 2 weeks of studying, I did not finish all PAT practice resources that I got. However, the tip videos from Crack the DAT, by themselves, are very helpful. Crack the DAT is well-known for preparing student to get very high PAT scores.
Considering the short period of time I had to study for DAT (2 weeks) and that Crack the DAT was my only material for this section, I'm very happy with the result.
Join the Crack the DAT family to gain an advantage on your Dental Admission Test to score higher, get accepted into dental school and become a dentist! Click here!