Phan Than Binh | 21 AA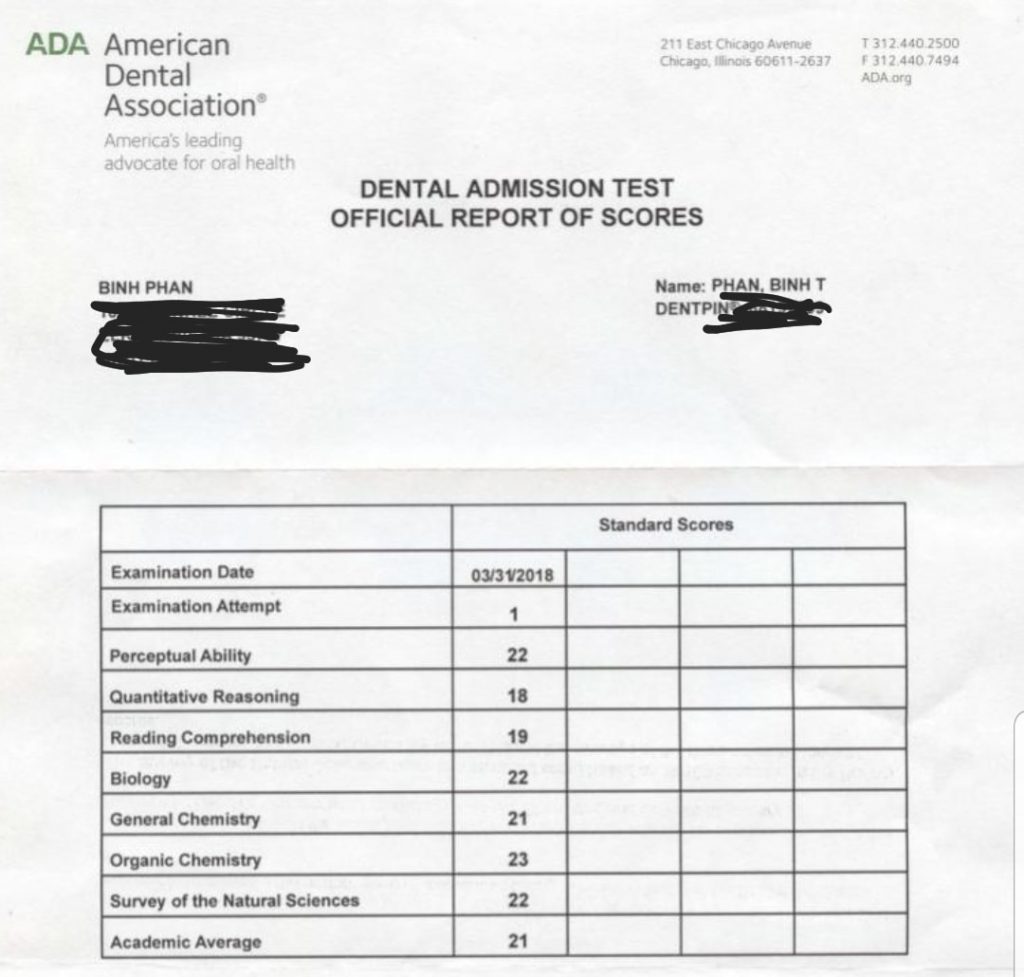 What is one piece of advice you would give to another student preparing to take the DAT?
Try not to be so hard on yourself.
It is surely easier said than done, at least when it comes to having everything locked-in and together with this much pressure- the pressure of obtaining a satisfying score, of staying mentally healthy, of handling academic work, or of maintaining an active social life. Many times throughout the two and a half months of my studying, as I wanted to balance it with playing volleyball and hanging out with friends and keeping in touch with my family, I disliked myself. I got very irritated when "unnecessary" things came up that disrupted my studies, such as when the printer took an hour to finish printing the notes. I did not want to eat dinner after not being able to improve on the Angle Ranking portion on the PAT as much as I wanted on certain days. Some mornings, I woke up with dreadful feeling and little motivation because the day before I could not recall as much information on the physiology section as I aimed to. Now that I am attending dental school, something that many might look at as a great milestone, I would like to go back and tell myself to take it a little easier and love myself a bit more. I am sure that all of you, who are putting everything into studying, are improving as you go. And, you might not be seeing that. I was not either, especially when the Angle Ranking practice runs put me up and down for a month straight. But toward the end of the preparation process, as long as you keep grinding, you will improve. Just like I did with the Angle Ranking. So, be proud that you are already spending almost all your day and mind into this whole process. Treat yourself with ice cream and movie on the weekend. Take your close friend out for a taco treat after school exams. Go play your favorite sports for a little bit during the sunny days. Or blast your favorite songs in the shower! Doing little things that you like will make the whole journey more enjoyable. Find yourself a mentor/friend who could motivate and guide you.
I would not have gone this far by myself. I needed help (and still will during and after dental school). I had my best friend know everything I was up to regarding the preparation- my studying schedule, break schedule, practice exam schedule, etc. I felt more confident and productive as I sent her the check marks on the to-do list at the end of the day. She helped me get back up and keep moving when I did not feel so at times. A quick call with her between studying sessions brought smiles to my face and a surge of energy to continue. I also had a mentor from school. She was a writing professor at my undergraduate university. I visited her now and then in her office for a quick chat. She often asked me about my plans beyond the DAT. I shared my future plans with her extensively, and I felt excited and self-motivated. I looked forward to getting done with the DAT and ready for dental school. Small conversations with her re-energized me, while the deeper talks brought more awareness to my personality and gave me a bit of self-appreciation to continue when I thought I failed. I would suggest that you find for yourself one as well- whether that could be a close friend or family member. At the end of the day, it is all up to your efforts. But, a little emotional support along the way will not hurt.
How did you use Crack the DAT to prepare for the DAT?
I found the introduction helpful. Reading through the tips for test taking and nature of the scoring system gave me a familiarity and confidence to tackle the real test and test-taking skills way before doing practice runs. I was well informed of what it took to get the scores I desired after reading through the "Scoring" section. The "Two-Pass" strategies definitely worked well for me on the science and PAT section, which require efficient time management.
I read and studied everything in the biology section. I majored in biology at a great undergraduate institution with a prestigious biology department. And, the Crack DAT biology section blew me away with enough and well-written details that made the studying effective and understandable, even with tricky parts like the physiology and evolution sections. What I found helpful was, after reading a paragraph or two, I wrote notes (bold texts and other things that I thought were important) on the margins. This way, I remember those key points deeper as I wrote these notes onto my notebook later or as I reviewed. I did every quiz question within the reading. With the detailed explanations for every answer choice, the questions kept me engaged and prompted me to look at the important concepts I just read. The pedigree was a tricky concept upon revisiting. And, the table of "Summary of Inheritance Patterns" made things much clearer. My favorite section was physiology. I found the diagrams very helpful, especially those relating to the heart. Biology was a long section to learn and most comprehensive. I did not regret studying almost every single page.
The chemistry sections are succinct and informative, especially the organic chemistry portion. Organic chemistry was one of my very favorite subjects during undergrad, and I did very well in my OC classes as I taught myself with the professor's book. The OC section in the book made things easy to understand. Unlike the biology section, I wrote down notes, reaction diagrams, and practice questions on my notebook right after I read. This way, I kept things straight and had everything in my own words as well as the example questions ready for review. After reading through a couple of sections, I made a sheet with all reaction types and examples for each. The sheet came in very handy for reviewing on the go.
The PAT portion was definitely challenging. I spent a lot of effort into reading the provided strategies and doing every single practice question. The important thing for me was to take it slow. This way, I had time to really analyze my strategy and every answer choice, as to why it was not correct or not. It was frustrating at times to not being able to figure out the subtle difference between two choices. I took a break after staring at them for too long and really dig deep into reading the explanation. I was glad I got exposed to many strategies listed in the book and started early. Thus, I had time to find out what worked best for me. Don't give up if you feel like you haven't improved much. It took me a long time too. What would you do differently to prepare for the DAT? I would spend more time with RC and QR. As much as English is my second language and I did not learn it until I came to America when I was 15, I wish I spent more time on really finding a strategy that could work for me. I made a mistake when I scheduled to study for RC and do practice test at the end of the day. It is because I felt exhausted by that time, after studying for other sections for the entire day. With the long reading and disinterest, I was not productive with RC. I would do RC at the beginning of the day when my head was fresh. The format of the articles on the real test was similar in length as the ones provided in the book. I read and did most of the articles, but I wish I went in depth with the explanations. I did not practice QR with timer, and that was not a great idea. I ended up rushing on the real test, and it was very stressful. I would absolutely practice QR with timer.
I would make more flashcards. When I studied in college, flashcards were not useful to me. However, when it comes to DAT with many small concepts and facts, flashcards could have been useful for me to brush over facts on the way to school or while cooking. Physical flashcards could be a hassle to carry around. I found out about the Anki flashcard application after the test. As I used it for school, it has been very effective for repetition, and I would have it accessible with my phone any time. This would definitely help me with memorizing extensive sections such as animal evolution. Join the Crack the DAT family to gain an advantage on your Dental Admission Test to score higher, get accepted into dental school and become a dentist! Click here!