Andrew Chen | 24 AA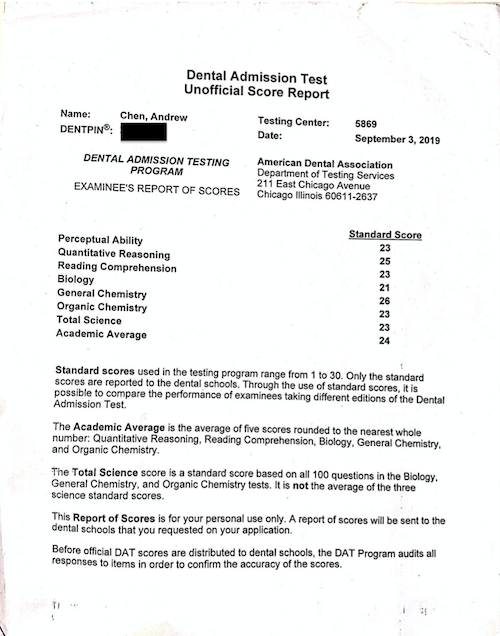 What is one piece of advice you would give to another student preparing to take the DAT?
The biggest pieces of advice I could give about doing well on the DAT are staying motivated and studying productively.
To stay motivated and focused, I would recommend having a routine schedule for studying. Regardless of if you are a morning or night person, it's really important to have consistent study times. Even if you have work, class, or free time throughout your day, it's important to be able to set yourself a daily schedule in which you know you can commit to for the entirety of how long you study for the DAT. This also includes getting ample sleep as this will help you form long-term memory associations with what you are learning! Closer towards the test date, I started to adjust my studying schedule to mimic more what my exam was going to be like. For example, I started to wake up at 6:30, eat a small breakfast, and take practice exams like I would imagine myself to be during the actual test environment. This helped me immensely in terms of preparation and reducing anxiety on the actual test day.
While having a routine schedule is important, I would also recommend finding ways to increase the quality of your studying, not just the number of hours you study. Studying for 4 solid hours every day is much better than having 8 hours of studying that's combined with distractions like checking your phone and/or watching Netflix. I found it useful to give myself small breaks every 45 minutes so that I could still stay engaged with learning but also wouldn't become too tired with learning more material. In addition, I made sure to have a variety of subjects to study daily to avoid monotony (until I figured out which section I needed to focus on the most).
How did you use Crack the DAT to prepare for the DAT?
Crack the DAT offers amazing resources for all subject areas. Crack the DAT's diagnostic tests help you assess where you need to focus your studying without needing to take a full-length exam. For the sciences, I found it really useful to go through the material once fully while making an outline of key ideas. I would then review these key points and convert them into flashcards so I could review the material on-the-go. Most importantly, I made sure to review the questions that I got wrong as often as possible so that I could ensure I was learning from my mistakes.
In addition, I would highly recommend Crack the DAT for PAT prep. I spent around 10-20 minutes before bed every night reviewing PAT, which eventually became an activity I would look forward to after a day of studying. These questions ended up being very similar to what I saw on the actual exam. I found it useful to have the Crack the DAT app to review PAT questions in between classes or whenever I had some downtime throughout the day. I definitely felt well prepared for PAT because of this constant exposure.
What would you do differently to prepare for the DAT?
One thing I wish I had done differently was exploring different methods of studying earlier. After about a month of studying, I found that creating flashcards on Anki was the best way for me to learn the material. I wish I had spent the first couple of weeks exploring different studying techniques like reviewing practice questions, re-reading/watching material, or creating flashcards. I definitely recommend that everyone is open-minded when it comes to finding new ways to study!
In addition, I wish I had given myself more time to review my incorrect answers from practice tests. I was too focused on getting through with new practice questions that I didn't give myself enough time to review past questions. I found making flashcards with the questions I got wrong to be the most effective way to improve my score. At the end of the day, I would just trust the process! I felt confident going into the actual DAT and did much better than I did on the practice exams, and I can definitely attribute that to useful study resources like Crack the DAT.
Join the Crack the DAT family to gain an advantage on your Dental Admission Test to score higher, get accepted into dental school and become a dentist! Click here!